You need about 3 min. to read this post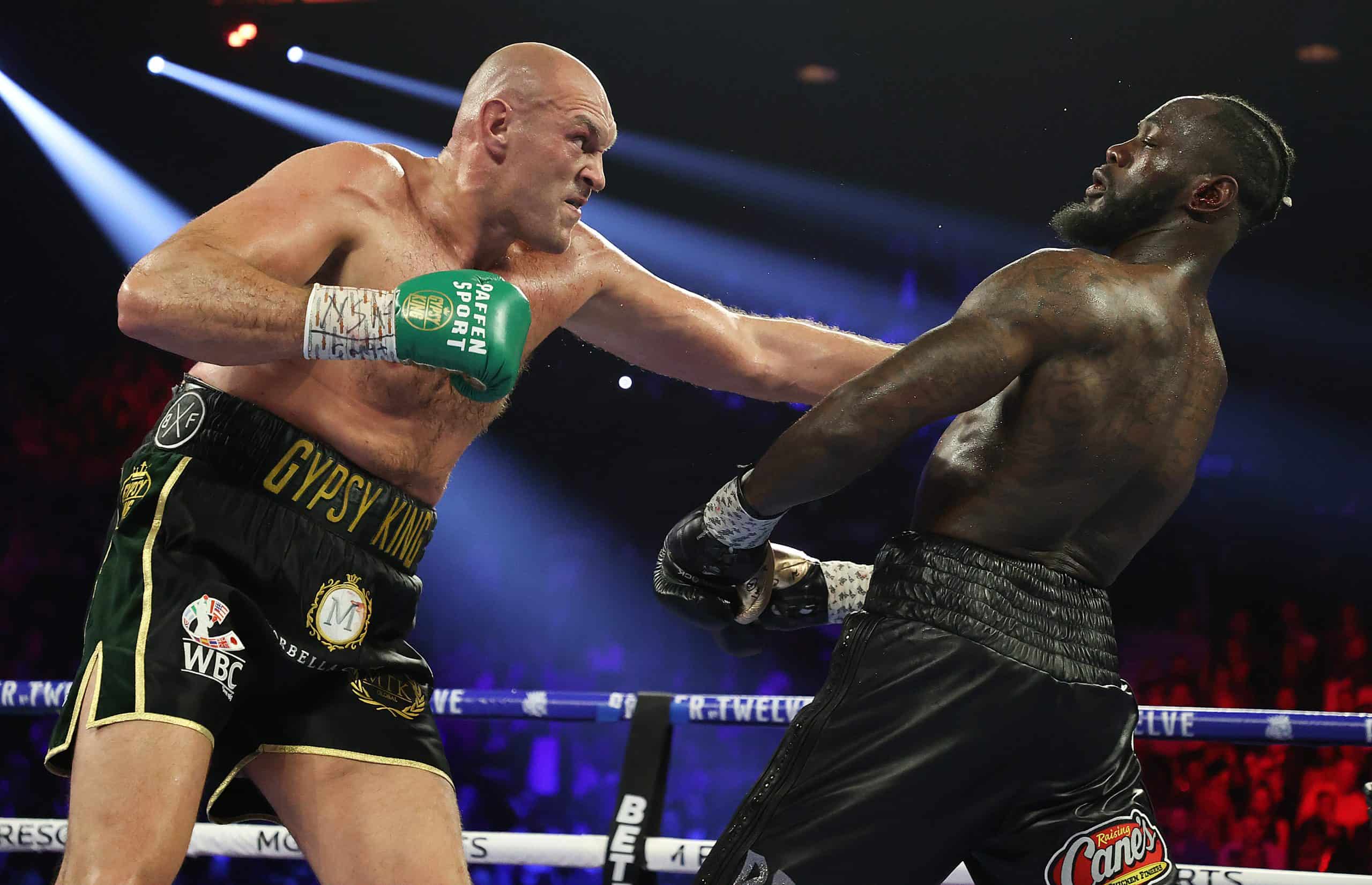 Organizers of the third Tyson Fury vs Deontay Wilder fight for the WBC world title have officially confirmed that the highly anticipated bout will take place on Saturday, October 9. It was originally scheduled for July 24. At the same gala, Pole Adam Kownacki will face Robert Helenius in a rematch.
Tyson Fury vs Deontay Wilder 3: The great trilogy will end in the fall
Deontay Wilder (42-1, 41 KOs) has already fought Tyson Fury (30-0, 21 KOs) twice. In December 2018, the judges declared a draw (115:111 Wilder, 114:112 Fury and 113:113), while in the rematch, in February 2020, the Briton defeated the American before time and won the WBC federation world championship belt.
The third, box office fight was supposed to take place on July 24 in Las Vegas. However, the gala was postponed because Fury tested positive for coronavirus. Three people from his camp were also infected. Recall that the "Gypsy King" did not take the second dose of the vaccine.
On Thursday, it was officially announced that the new date of the duel is October 9.

"Tyson is a character man and I know how frustrated he is that he can't fight this month. It's a shame for him that someone like him lost the fight to Covid. This extra time he's been given to prepare will make him better than he's ever been and reaffirm him as the number one heavyweight in the world." – said his manager, Frank Warren.
The same show will feature a rematch bout between Adam Kownacki (20-1, 15 KOs) and Robert Helenius (30-3, 19 KOs). Both have been waiting for a return to the ring since March 2020, when the Finn unexpectedly knocked out the Pole.
It's official: #FuryWilder3, October 9, Las Vegas, T-Mobile Arena. Same venue, same gala, with @AKbabyface vs. Helenius 2. ??? #boxing pic.twitter.com/xR7a9lL431

– przemek garczarczyk (@garnekmedia) July 15, 2021
When and where will Michał Cieślak fight Mairis Briedis? We know the details!
It seems that in September Michal Cieslak (21-1, 15 KOs) will get his second chance to fight for the world title. The Pole is a mandatory contender for the IBF junior heavyweight belt. Its holder is the Latvian Mairis Briedis (27-1, 19 KOs).
"We have a mandatory defense of the IBF belt against Michal Cieslak ahead of us. That fight will happen around September" – briedis' promoter Kalle Sauerland said. Zbigniew Ratyński, who represents the Pole, added that the clash will probably take place on September 25 in Poland. According to TVP Sport journalist Piotr Jagiello, the possible location is the Tri-City's Ergo Arena.
From what I heard, the availability of Ergo Arena for September 25 is already being checked. The organization may be German-Polish. https://t.co/WHG3YpqI7V

– Piotr Jagiello (@KrolJagiello) July 15, 2021
Standout photo: Tyson Fury vs Deontay Wilder rematch fight; photo: Al Bello / Getty Images Sport

Adam Kownacki
,
Adam Kownacki 2021
,
Adam Kownacki boxer
,
Adam Kownacki boxing
,
Adam Kownacki fight
,
Adam Kownacki fights
,
Adam Kownacki gala
,
Adam Kownacki Helenius
,
Adam Kownacki Helenius 2
,
Adam Kownacki Helenius fight
,
Adam Kownacki Helenius rematch
,
Adam Kownacki Helenius when fight
,
Adam Kownacki news
,
Adam Kownacki news
,
Adam Kownacki news
,
Adam Kownacki rematch
,
Adam Kownacki Robert Helenius
,
Adam Kownacki upcoming fight
,
Adam Kownacki vs Robert Helenius
,
Adam Kownacki vs Robert Helenius 2
,
Adam Kownacki what next
,
Adam Kownacki when
,
Adam Kownacki when fight
,
Adam Kownacki when next fight
,
Adam Kownacki when will the rematch take place
,
Adam Kownacki where to fight
,
Adam Kownacki with whom he will fight
,
boxing
,
boxing 2021
,
boxing Adam Kownacki
,
boxing champions
,
boxing Fury Wilder
,
boxing gala
,
boxing heavyweight fight 2021
,
boxing heavyweight fights
,
boxing information
,
boxing news
,
boxing news
,
boxing Poland
,
boxing schedule 2021
,
boxing sport
,
boxing when you fight
,
boxing who fights
,
boxing who is champion
,
Briedis Cieślak
,
Cieslak boxing
,
Cieslak professional boxing
,
Cieslak the boxer
,
Deontay Wilder
,
Deontay Wilder 2021
,
Deontay Wilder fight
,
Deontay Wilder fight balance
,
Deontay Wilder fights
,
Deontay Wilder Fury
,
Deontay Wilder Fury 3
,
Deontay Wilder news
,
Deontay Wilder Tyson Fury
,
Deontay Wilder Tyson Fury 3
,
Deontay Wilder v Tyson Fury
,
Deontay Wilder when to fight
,
Deontay Wilder world championship
,
Frank Warren
,
Fury v Wilder
,
Fury v Wilder 2
,
Fury v Wilder 3
,
Fury vs Wilder 3
,
Fury Wilder
,
Fury Wilder 2
,
Fury Wilder 2021
,
Fury Wilder 3
,
Fury Wilder 3 fight
,
Fury Wilder fight
,
Fury Wilder fight
,
Fury Wilder news
,
Fury Wilder when
,
Gypsy King
,
heavyweight boxing
,
Helenius Kownacki
,
Kalle Sauerland
,
Kownacki Helenius
,
Kownacki Helenius 2
,
Kownacki Helenius 2 when
,
Kownacki Helenius 2 when fight
,
Kownacki Helenius 2021
,
Kownacki Helenius boxing
,
Kownacki Helenius date
,
Kownacki Helenius gala
,
Kownacki Helenius rematch
,
Kownacki Helenius when
,
Kownacki Helenius when fight
,
Kownacki Helenius when will the rematch take place
,
Kownacki professional boxing
,
Kownacki vs Helenius
,
Mairis Briedis
,
Michał Cieślak
,
Michał Cieślak - fight for the belt
,
Michał Cieślak 2021
,
Michał Cieślak boxer
,
Michał Cieślak boxing
,
Michał Cieślak fight
,
Michał Cieślak fights
,
Michał Cieślak gala
,
Michał Cieślak Mairis Briedis
,
Michał Cieślak next fight
,
Michał Cieślak when fight
,
news boxing
,
professional boxing
,
professional boxing 2021
,
professional boxing Adam Kownacki
,
professional boxing current champions
,
professional boxing fight dates
,
professional boxing fights
,
professional boxing fights
,
professional boxing gala
,
professional boxing heavyweight
,
professional boxing heavyweight 2021
,
professional boxing heavyweight fight
,
professional boxing latest news
,
professional boxing news
,
professional boxing news
,
professional boxing news
,
professional boxing Poles
,
professional boxing Tyson Fury
,
professional boxing upcoming fights
,
professional boxing when
,
professional boxing world champions
,
Robert Helenius
,
Robert Helenius 2021
,
Robert Helenius boxing
,
Robert Helenius Kownacki
,
Robert Helenius news
,
Robert Helenius the boxer
,
sport professional boxing
,
The Gypsy King
,
Tyson Fury
,
Tyson Fury 2021
,
Tyson Fury boxer
,
Tyson Fury Deontay Wilder
,
Tyson Fury fights
,
Tyson Fury Gypsy King
,
Tyson Fury news
,
Tyson Fury next fight
,
Tyson Fury next fight
,
Tyson Fury v Deontay Wilder
,
Tyson Fury v Wilder
,
Tyson Fury v Wilder 2
,
Tyson Fury vs Deontay Wilder
,
Tyson Fury when to fight
,
Tyson Fury Wilder
,
Tyson Fury Wilder 3
,
Tyson professional boxing
,
US professional boxing
,
when Adam Kownacki fights
,
when Adam Kownacki will fight
,
when is Fury Wilder 3 fight
,
when is Kownacki Helenius 2021 fight
,
when Kownacki Helenius 2
,
when Michał Cieślak fights
,
when Tyson Fury fight
,
when Tyson Fury fights
,
when will Kownacki Helenius fight
,
where Kownacki Helenius
,
where to fight Kownacki Helenius
,
where Tyson Fury fight
,
Wilder v Tyson Fury
,
world boxing
,
world professional boxing
,
Zbigniew Ratyński